We do complicated Wool Carpet Repair, Stretching, Seam & Installation- 37 Years Experience
Did You Know That Wool Carpets Need TLC & You need to know what you're doing before repairing Wool Carpets?
Wool Carpet Stretching

:
(this tool below is the

correct

Wool Stretching head that will not tear or pull wool tufts out of the backing of your expensive carpet, it contains thousands of needles instead of 40 nails like a traditional carpet stretching head). Note: Most Carpet Repair guys DO NOT EVEN KNOW ABOUT THIS OR OWN THE PROPER EQUIPMENT much less the intricacies and knowledge of how to stretch delicately but safely wool carpet.

We have a special carpet stretching head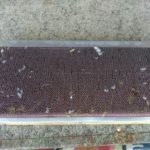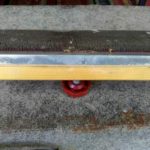 that will not rip or tear the fibers or Jute backing of the wool carpet.
We service high end luxury wool carpets, Axeminster Wool carpet. etc.
We are expertly trained in all aspects of structure, fiber, backing so as to repair or stretch your wool carpet perfectly.
WARNING: make sure you hire a specialist as to repair or stretch or clean your wool carpets.
Wool Carpet Construction:
On older wool carpet backings, they were made out of Jute, a high quality natural plant fiber. Today, new wool carpets have a new stiff action back. The New Still action back is nylon jute, which literally glues the carpet back together on both sides, and acrylic glue glues the seams.
Wool Carpet Seaming & Patching
We couple the seams together using a KoolGlide, an electromagnetic seaming iron, allowing gluing of seams of the carpet on the sides and seams it on the bottom, now both are double seamed, bottom and sides, creates a better wool carpet patch.
We offer a lifetime labor guarantee on all our Wool Carpet Repairs & Wool Carpet Stretching or Re-stretching and Wool Carpet Installing.
Call us today at 310-736-2018