#1 CARPET STRETCHING LOS ANGELES- RE-STRETCHING SERVICE- WE GET THOSE CARPET WRINKLES, BUCKLES & TRIP HAZARDS OUT!

<—–Ready To Start? Fill Out This Intake Form
Does your Carpet, Stairs or Hallway need to be Re-Stretched? You've come to the right place.
We are IICRC Certified in Carpet Stretching Los Angeles and Carpet Repair, as well as Carpet Dyeing, Carpet Color Correction & Carpet Cleaning.
Revive Carpet Repair uses only the manufacture recommended repair and installation guidelines for power stretching to properly stretch or re-stretch your carpet, thus keeping the warranty in place. We are one of the only companies' who backs up our work with a Lifetime Labor Warranty for your protection.

Also, we have a $1M Liability Policy for your protection (which we've never had to use as we teach carpet stretching and repair, over 35 years experience)
Whether you're a home or business, we can help you
We guarantee all our work for the lifetime of the carpet, and we promise that you will love the results! Call today!
Areas Served: We Serve ALL of Los Angeles County, Ventura County, Orange, Riverside & San Bernardino Counties, don't worry, we'll be there in about 2 hours- Call Now!
We fix all:
Carpet Stretching, Carpet Stretcher needs

Carpet Restretching

Carpet Reinstallation

Carpet Delamination Repair

Carpet Waves

Carpet Bumps

Carpet Wrinkles

Carpet Buckling

Carpet Bubbles or Bubbling

Carpet Trip Hazards

Carpet Seam Repairs

Carpet to Tile Transitions

Carpet to Hardwood Transitions

Carpet to Vinyl Transitions

Vinyl Tears
So give us a call to discuss your current carpet stretching & repair situation 🙂
"Why did my carpet wrinkles, buckle and ripple"
Many people ask "why are there "waves" in my carpet? Why did this happen to my carpet"?
The Answer is:
(1) Poor Installation
(2) Water damage for long(er) periods of time affecting the backing of the carpet
(3) allowing your home to exceed 86 degrees inside
(4) Sliding heavy furniture across the carpet
Poor Installation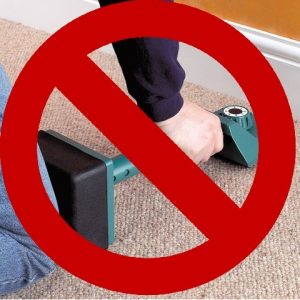 CR105 Guideline on the Proper Installation of Residential Carpet states that "the use of a carpet power stretcher is MANDATORY. And….
NOTE: Failure to power stretch may result in:
•wrinkling and buckling
•damage to the carpet
•delamination of secondary backing"
More importantly, you, the homeowner by not getting your carpet power-stretched will now have to pay twice, once for a "blow-and-go-install" and once to a reputable firm to Power-Stretch your carpeting, thus re-stretching it, like it should have been done in the first place.
Unfortunately, you were most likely the victim of your previous carpet installers using knee kickers and NOT "Power Stretcher's". A Power stretcher is a heavy, effective carpet installation tool that professionally stretches your carpet 1 to 1.5%. Carpet mills state that in order to maintain warranties, only power stretchers must be used upon new carpet installation. A power stretcher requires de-installing off of the tack strip. This is a step that many unlicensed, untrained installers skip because it takes longer and they think that you wont notice because it will take years for wrinkles or buckles in your carpet to show up.
Question: "Can I stretch my carpet without a carpet stretcher?"
Answer: No, you should not do it. The manufacturers say that in order to keep your carpet in its warranty, it MUST be power stretched during installation. If you don't use it, your carpet will be non warrantable. And by the way, anyone who says otherwise is (a) not certified & (b) going against the manufacturer and (c) doesnt know what they're talking about & (d) I'm repairing their work after a couple of years because that's when it shows itself up. Here's a video of a guy who bought expensive carpeting, but the installers did NOT use a power stretcher.
Question: "Why Can't I stretch just part of my carpet-the part where i see ripples? Do I have To Stretch ALL of my carpeting?"
Answer: Because, Carpet is Wall-to-wall. Similar to making your bed. If someone is sitting on the bed and you make most of it, it is still loose. Same with Carpet. Because carpet is continous, if you only tighten part of the carpet, the carpet is still technically loose or not tightened enough. It will continue later to expand and it will begin to buckle or ripple again after time. The correct remedy is to move furniture at least 5-7 feet away from the particular area that we are stretching, power-stretch that area, re-attach to tack strip under about 700 ft-lbs of tension, trimit and tuck it. Then we warranty it against wrinkles coming back!
#1 CARPET STRETCHING LOS ANGELES- RE-STRETCHING SERVICE- WE GET THOSE CARPET WRINKLES, BUCKLES & TRIP HAZARDS OUT!

"How Much Does Carpet Restretching Cost?"
Carpet Restretching Cost: Most trained and certified carpet technicians charge from $105 to $245 to "tighten carpet depending on the size of the room.
Factors that affect pricing include:
furniture in the room, and how many pieces of furniture we need to move verses what we can leave (such as a big bed frame or furniture that is bolted to the wall etc. Also, if there is an extra heavy piece of furniture such as a safe or a massage chair or large piece of furniture that weighs over 100lbs, all that will be taken into consideration. Please see our furniture moving policy on this.

Also, we will determine are there any seams that need to be broken and re-seamed, such as in a hallway at doorways, in order to properly stretch the room.

Irregular shaped areas? Fireplaces or Low shelving Units? Air Vents in Floor? All these need to be considered and how much work is needed to properly stretch the room according to manufacture guidelines.

as well as how big the room is.

Is there any carpet that is delaminated (where the primary and secondary backing is coming apart due to water, age, sun or pet urine) and we need to be extra careful and conscientious about these areas while stretching.
Please feel free to text pictures to (805) 660-4048 and we will give you a great estimate over the phone. After, once our technician arrives, they will measure and give you the exact price, whether its less, the same, or more. If you like the price, we came to do the work, so we will finish it right there and then. Unfortunately, due to the price of gas and traffic in southern california, we don't do free in person estimates without coming to do the work, so we try to get you an accurate price range based on pictures, measurements you provide etc.
"Why Is My Carpet Buckling and Rippling After I Got It Cleaned?"
Good question. This is not a common occurrence but it does happen for a variety of reasons. However, it is temporary and your carpet will return to its original state before the cleaning occurred after it dries thoroughly. Let's examine this closer….
In "carpet speak", this is called Latex Displacement. There are several factors that cause latex displacement, aka. "expanding differentials" or "differential expansion", these deal with the construction of the carpet primarily.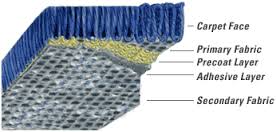 Carpet is made up of 4 layers:
The Carpet Face (the fibers you walk on)

The primary backing of the carpet

The Layer of Latex Adhesive

The secondary backing of the carpet.
Most manufacturers use a type of clay in the latex adhesive made out of marble dust. This gives the latex some bulk as well as allowing it to spread farther, to "stretch" a little bit. This clay absorbs water easily, it is "hygroscopic". When this clay absorbs the moisture, it expands, even with atmospheric conditions.
It becomes very noticeable if thoroughly wet due to a carpet cleaning, or if humidity is really high that day. Depending on the amount of clay in that latex, the Carpet Wrinkles can look like waves of the sea and even cause the homeowner to become concerned, even upset.
However, as the adhesive dries, the clay will return to its normal state (or pre-carpet cleaning state- whether properly power-stretched or not properly power-stretched).
Additionally, if your carpet is Wool, wool fibers can absorb 100% of their weight in water, they are one of the most absorbent fibers on the planet. Nylon fibers absorb about 20% of their weight in water, and "Poly" or polypropylene will absorb even less. So Nylon & Wool carpets take longer to dry as more water or moisture made its way into the backing of the carpet.
What is Carpet Stretching (Anatomically)?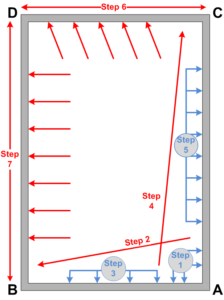 We take the carpet off 2 of the 4 tack strips, stretch it up to 8 different directions, and under tension of a power-stretcher, reattach it to tack strip. Then we trim it and tuck it. The carpet will really look "new" as it should. You'll be surprised! And then, we guarantee the workman ship for life.
How To Measure My Room For Carpet Stretching Estimate?
Reasons to do business with Revive Carpet Repair:
Guaranteed Power-Stretching (vs. knee-kicked carpet that often fails in 3 years)!

$1 Million Liability Policy to protect you (which we've never had to use before due to superior work performed)

Top-notch 5 star reviews, did you read them, they are current and accurate from our real customers, check them out!

100% Lifetime warranty on our install against seam issues or buckling and wrinkling that occur with other companies because they did NOT use a power-stretcher like we do.

Our promise to you: If there is any problem with your carpet install, we come back to fix it for free if we caused it

over 37 Years experience

We sell carpet also, click on our Buy Carpet., tell us the make & model and we can stop by and pick up your carpet on the way to you= ONE STOP SHOPPING & INSTALL FOR YOU!

We teach carpet stretching & installation, so odds on, by installing carpet with us, you're getting the teacher!
dont believe me? here's Bob Vila's opinion,
read here